About the Pro Shop
Fully stocked golf shop with many leading brands
Cleveland
Powakaddy
Titleist
Callaway
Yes Putters - struggling with your putting? Then why not get your putter custom fit (try the c-groove from Yes, we can arrange a free demonstration and fitting at the Yes factory in Southport.) Seeing what this putter can do is believing, it will make the world of difference to your putting.
Golf Lessons - our speciality - a choice of indoor or outdoor facilities. See your swing on camera and have it analysed by Paul Roberts himself. Short game lessons are available out on the practice green or we can fix your long game too - you decide. Golf lessons start at £15.00 per person.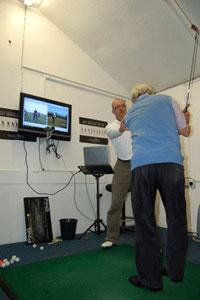 Now Here...............C Swing video swing analysis
cSwing is an advanced video swing analysis program for avid golfers and golf professionals. It captures video from our indoor swing room onto a CD ready for your PC. You can easily analyse your swing with its powerful drawing and comparison tools. Seeing your swing alongside pro swings provides immediate visual feedback that will result in lower scores.
Telephone 01744 28785 and speak to Paul or Paul for further details and availability.